In a hurry? Get a quick explanation of Windows Virtual Desktop.
If you are looking for a simple overview of Windows Virtual Desktop, download our infographic. Enter your email below.



Windows Virtual Desktop helps bridge the gap between legacy apps and Office 365
We find so frequently that companies would like to adopt new technology such as Office 365, but there is one application they cannot live without that is only functions in a traditional 'server-based computing' model. Those companies are sometimes held back from latest technology by their legacy software.
Since our founding in 2006, we have offered our Hosted Workspaces for these customers. However, they are not a perfect fit for everybody. For those that would prefer something different, Microsoft now offers Windows Virtual Desktop (WVD) – could this service be for you?
Cloud Hosted services designed to solve common business problems
Too often IT providers will talk in complex jargon, possibly to hope to confuse you into buying. We try to be different. Instead, we talk in terms of common problems that companies face, and how we can solve them.
If you find any of these concerns with your business, perhaps we can help:
Difficulty moving from a traditional IT model to a modern one
Office 365 is great. It works so well for so many different companies across the world. However, there are still a large number of companies that rely on legacy software for the day-to-day running of their business. If your software is a number of years old, then it may not be compatible with Office 365 or similar modern services.
Microsoft now recognises this problem and have taken steps to resolve it with Windows Virtual Desktop. WVD uses Microsoft's Azure platform to create a Hosted Desktop environment which allows applications to be published in the cloud and therefore integrate more closely with Office 365.
If you are looking to leverage WVD, your best option is to enlist the help of a Citrix Partner (such as entrustIT) as Citrix software will give you the most reliable connection to your WVD environment.
An Office 365 subscription in place, but difficulty linking your saved data with your workspace
If you have an Office 365 subscription, it is likely you keep a lot of your company data in OneDrive for Business and Sharepoint. If so, you may find that your data is not easily accessible from your legacy applications.
Because Windows Virtual Desktop is based on the Azure platform and is included in Office 365 E3 licences (and above), WVD provides fast links between your Office 365 data and the desktops used to manage it.
Enlist the help of an MSP such as entrustIT to create, monitor and support your WVD environment and take the pressure away from your teams to enable them to focus on their work.
Trouble finding the most cost-effective IT option for your company
IT is complex and expensive, but a necessity. If you are reliant on technology as so many businesses now are, it makes sense to invest in the most cost-effective option. The one that balances functionality with price.
Windows Virtual Desktop is most cost-effective for smaller teams that work traditional business hours (i.e. 9-5). This is because Azure's pricing model is based on, among other things, active time using a cloud server. Therefore, it can get expensive if used outside of standard office hours.
For larger corporations or those that work at 'non-traditional' hours, a private Hosted Workspace (also from entrustIT) could be a better option. Hosted Workspace allocates private servers to your business and is charged based on user count and storage volume, rather than minutes of use.
The need to upgrade to Windows 10, but lack of clarity on the best way to do it
You may have heard that Windows 7 is reaching end-of-life in January 2020. End-of-life means the end of security patches and updates to Windows 7, leaving the OS vulnerable to cyber attacks. To ensure your business remains protected from such attacks, it is crucial that you update your devices to Windows 10 before the deadline. Unfortunately, that means a sizeable one-off investment.
Windows Virtual Desktop gives a boost to those with this predicament. WVD users gain access to extended support for Windows 7 to buy your business a bit more time to upgrade. WVD also provides you with Windows 10 based desktops in the Azure platform, allowing you to make the transition with ease.
Using Windows Virtual Desktop to transition to Windows 10 is a cost-effective strategy in comparison to purchasing one-off hardware and software upgrades.
Lack of qualified staff to support your IT environment
There are always day-to-day niggles when it comes to your IT. If you do not have qualified staff that can help resolve them, they can become a real challenge and can waste valuable time.
Microsoft do not support Windows Virtual Desktop directly. Whilst they ensure the system works, they will not support what goes on inside your desktops. That means if you have a problem with one of your applications – you are on your own.
That is where a Managed Service Provider such as entrustIT come in. We will support your Windows Virtual Desktop environment. Whether you need upgrades, changes or enhancements, we are Microsoft Partners and experts. You will have full access to our support team during your working day.
Concerns about backing up your data
With the rise of cyber threats, backup has never been more crucial for your precious business data. Microsoft does not handle backup of your data in Windows Virtual Desktop, which means you will need a solution to handle it.
entrustIT's Managed Backup service is perfect for this. The service uses a cloud backup and works in the background, backing up your precious data multiple times throughout the day to ensure that if the worst should happen, you are only ever a few hours behind. Included is disaster recovery to entrustIT's private cloud environment. The result is your peace of mind that your precious data is backed up and ready to be restored should you encounter any trouble.
Trouble with integration of Office 365 and your workspaces
If your business is struggling to utilise the benefits of your Office 365 subscription in your legacy applications, then Windows Virtual Desktop could be the answer.
WVD uses your Office 365 licences (and is part of your subscription if you are on an Office 365 E3 package and above). That means that you can make use of the collaboration and document sharing tools from Office 365 within your workspace and therefore within your legacy applications.
Data storage in WVD is handled by your OneDrive, meaning your data is all in one place too – easy!
Ready to learn how Windows Virtual Desktop can streamline application delivery in your business? Get in touch with us at
0330 002 0045
Request a Solution Explorer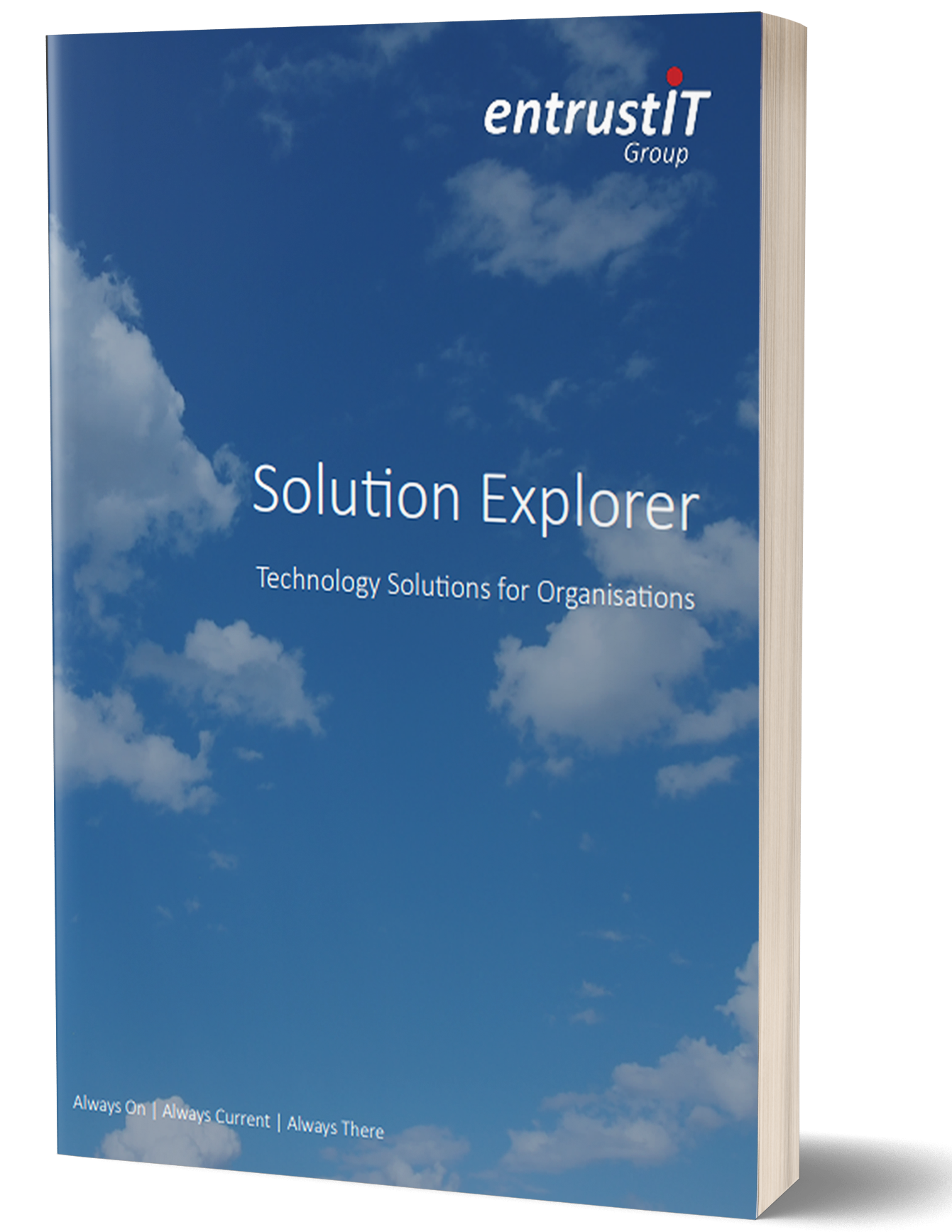 The Solution Explorer outlines our IT Services, what problems they solve and who they work best for. Request a copy by post:






<!__ end .main-content __>