You already know that your business data is one of the most important assets of your company, an asset that you cannot afford to lose. If your company backs up data only where it is created, i.e. within your office premises, important information could be lost if a disaster strikes. The most effective method to protect your data is to back up to an offsite location,  however, creating a sensible backup solution can be complex and expensive, plus, it needs constant testing to ensure it will deliver in a crisis.
For most organisations a business cloud backup service will meet all your requirements, at a sensible cost.
What is cloud backup?
Cloud backup means to back up data from your workstation or server to an entrust datacentre using your internet connection. Cloud backup is usually chosen as part of a business disaster recovery plan, as the data remains safe should your office be at risk from disasters such as fires, flood or employee theft. Our business cloud backup service leverages cloud computing to create an off-site storage solution with almost no hardware requirements, suitable for an organisation of any size.
How does it work?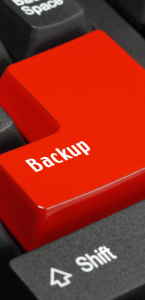 Using your high-speed Internet connection, you can choose specific files or the entire contents of a hard drive to back up to our data centre, using the entrust Online Backup Manager (OBM) software. You can choose to have files automatically saved to your online backup on a regular basis by scheduling backups at specific time or your files can be automatically backed up when changes are made.
We provide a management console to access the data and to monitor the health of your backups. The backed up files are encrypted and stored in our data centres. You can download and use the data backup or browse the archived files directly on your computer. You can restore an entire backup or just specific files using the same management console.

"Our online backup service leverages cloud computing to create an off-site storage solution with almost no hardware requirements, suitable for an organisation of any size."
Download our Business Cloud Backup Product Sheet
Ready to take the next step? Request a call back.






<!__ end .main-content __>