Our flagship product, the entrust Hosted Desktop service is a cheaper and simpler alternative to owning and managing your own IT systems.
Desktop users still have the same functionality and Windows environment they are used to and the same Microsoft Office programs and specialist applications. But instead of keeping their software and data on a PC or locally based server, we deliver it to them from a secure data centre.
Users access their personal desktop through the internet (or 'cloud'). It's encrypted and is consequently secure but authorised users can work from anywhere with an internet connection, making them much more mobile.
Your business can stop investing in expensive hardware. You won't need to replace your server(s) regularly; and old PCs and laptops gain a new lease of life once all their software is stripped out and held in the cloud. Similarly, your staff can make use of their own hardware if they would prefer to do so.
We take care of the routine IT administration, support, security or maintenance. It comes as part of a fixed monthly fee per user. Upgrades and patches are all deployed automatically, and we take responsibility for Microsoft software licensing, including updates to the latest versions. This saves you a lot of time. For example, Microsoft releases new patches at least once a month – and many companies are simply not on top of that. New users can be added or removed at immediately, either via our online portal or by calling our support desk.
When you need help, we are contactable 24/7 and we resolve problems quickly. We resolve 90% of support tickets within thirty minutes. In addition, we guarantee 99.99% uptime.
In conclusion, you can expect great results with Hosted Desktop. Firstly, you save money & time and gain productivity. Secondly, your data security is enhanced. Furthermore, your workforce becomes more mobile and productive. Therefore, we support you to grow.
Benefits of an entrust Hosted Desktop
No IT expertise required
We are IT experts so you don't have to be. This is a fully supported and fully managed service which we look after 24×7
No new IT capital expenditure
You don't need servers again … ever. Thus, your IT spend is linear and predictable.
Be more productive
We take care of everything from software license renewals to patches, updates and adding and removing new users. As a result, you can just focus on your business.
Spend less
On a 3 year basis, an entrust Hosted Desktop typically costs 60-65% of traditional IT if all cost factors are included. The longer you're with us, the more that number reduces.
Be more mobile
Your people can access their Hosted Desktop from anywhere with an internet connection, and on almost any device.
Be more flexible
Scale up or down from month to month without penalty. You only pay for what you need.
Be more secure
All data is held securely in ISO27001 certified, Tier IV datacentres where it won't be hacked, lost or damaged. Lose a device and you can still sleep easy – the data never leaves our datacentres.
Recover faster from disaster
Even if your office is hit by a disaster, your data will be safe. You can subsequently resume working immediately from anywhere with an internet connection.
Less Downtime
We offer a 99.99% SLA; that's made possible by the quality of our datacentre facilities and the infrastructure investment that we need to keep your data safe.
Read our related blog posts:
Remote Working: The Complete Toolkit 
6 Tips For Working From Home Effectively
6 Tips For Starting Your Day Right

Download the 
entrust Hosted Desktop Product Sheet
Hosted Desktop Features
Secure Microsoft Windows desktop delivered via Citrix.
10Gb per user storage, aggregated across the user base
Anytime, anywhere connectivity, on any device.
Full integration with Microsoft Exchange/Outlook
Latest versions of Microsoft Office
Your applications added to your desktop
Shared company drive for central data storage.
Personal data drive for private data storage.
Role based drives for departments or disciplines
Resilient cloud infrastructure with backup and replication
99.99% uptime guarantee.
ISO27001 certified data centres in the same geography as you are
Monthly billing and contracts (discount for longer terms)
Browse our Hosted Desktop micro-site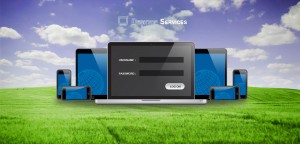 ———————————————————————

"Our partnership with entrustIT has been highly successful; entrustIT has delivered a cost-effective, efficient and elegant service. We can focus on our core business, safe in the knowledge that our entire IT infrastructure is in safe hands"
To find out more about how Hosted Desktop has streamlined business at Hanson Wade, download the Hanson Wade case study here
Are you ready for the next step? Request a callback.





<!__ end .main-content __>