Hosted VoIP at the National Federation of Builders
The National Federation of Builders (NFB) provides business solutions/resources to builders, contractors and house builders across England and Wales; protecting businesses, saving members time and money, and allowing them to focus on their core business of construction. Much of the strength of the NFB lies in its regional structure, covering both England and Wales and providing individual service by dedicated staff with specialist knowledge of the challenges and issues facing construction companies within their own geographic areas..
The challenge
The NFB's existing digital telephone system was expensive to operate, technologically outmoded and failed to deliver the features and capabilities that the Federation needed.
"The telephone system was very rigid and expensive to operate," explained Helen Pinder, NFB"s Business Information Manager. "We had no facilities to redirect calls, set up individual mail boxes and no warning if there were recorded voice mails awaiting attention. We also relied on ISDN lines which pushed up the overall cost. We just weren't getting value for money."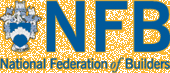 "..the concept of outsourcing the hosting, support and maintenance of our entire telephone system was completely new to us. However, the more we looked into entrustIT's Hosted VoIP proposal, the more attractive it became."

– Helen Pinder, Business Information Manager

<!__ end .main-content __>