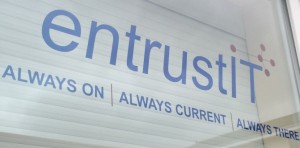 We started entrust IT in April 2006 because we believed that we could deliver real benefit to any sized organisation if we built an enterprise grade IT environment and then shared the cost across a large group of customers. By sharing the services  we can invest in robust and resilient IT products and allow you to focus on what you do best – building your business and caring for your clients.
We built our first subscription-model data-centre facility in 2006 and obtained our first customers that same year. By utilising the very latest broadband internet access coupled to specialised technology all our services can be delivered anywhere in the world, 24 hours a day and 365 days a year.
We take great pride in the personal and professional services that we provide and have invested heavily in our systems to ensure outstanding performance and high availability of all our managed services. We aim to maintain 99.99% availability during core hours and our infrastructure is designed and built with that in mind.
At the heart of our systems are  managed datacentres with inbuilt resilience used to provide services for the telecommunications industry. By taking advantage of the high levels of investment in environmental stability at our datacentres we are able to ensure that our service is safe and reliable at all times.
 In early 2009 we invested in additional datacentre capacity and acquired the business portfolio of Extrasys from Bailey Teswaine, doubling our hosted desktop customer base.
As our customer base has grown, so has the number of customers who require an all-encompassing service from us as an IT service provider.
 With that in mind, we acquired MLJ Creative Technologies Ltd in August 2009 (now renamed entrust Creative Technology). This company allows us to provide a range of on-premise solutions including hardware sales and on-site support services.
From our primary offices in Hampshire, we continue to expand and now deliver our services to more than 2,000 users across the UK and Europe.
In late 2012 we opened an office in Boston USA to serve the needs of US and Canadian customers, matching our datacentre facilities to customer geography in anticipation of changes in compliance requirements.
In 2014 we achieved ISO certification in quality management and information security and were accredited by the Cloud Industry Forum.