In a hurry? Get a quick explanation of Microsoft 365.
If you are looking for a simple overview of Microsoft 365, download our infographic. Enter your email below.



Step into the future with Microsoft 365
Microsoft's cloud-based suite of productivity applications has never been more popular, nor has it ever been more of an attractive proposition for your business. However, very few businesses truly get the full amount of value from their Microsoft 365 suite.
How can you be sure that you are making use of all the features available to you? Support from a trusted Managed Service partner is the key to unlocking the potential from your Microsoft 365.
Microsoft 365 services designed to solve common business problems
Too often IT providers will talk in complex jargon, possibly to hope to confuse you into buying. We try to be different. Instead, we talk in terms of common problems that companies face, and how we can solve them.
If you find any of these concerns with your business, perhaps we can help:
Inefficient or outdated forms of communication
Microsoft Teams is officially Microsoft's fastest-growing service. Despite only being released in 2017, Teams has now overtaken Slack with over 13 Million active daily users! What is it that makes Teams so popular?
Communication has always been the cornerstone of good business, and modern technology has made communication between teams easier than ever – wherever they may be in the world. Microsoft Teams works on your computer, tablet and phone meaning it is with you wherever you go. You can communicate with colleagues using video, voice and text communication and it all happens in real-time.
Another great feature of Teams is its deep integration with Office and OneDrive for Business. It is possible to share and collaborate on documents within teams, again in real-time. If you have an important document that requires the expertise of multiple people in different locations around the world, they can collaborate on that document simultaneously, slashing the time it takes to do your important work.
Solving COVID-19 specific problems:
We have spoken to many businesses who were struggling in lockdown as they could not communicate face-to-face with clients. Fortunately, Microsoft Teams changed the game for them, as the video conferencing feature meant they could have that face-to-face communication, without having to be with clients physically.
An outdated app suite that is not powerful enough for modern demands
Users of Microsoft 365 get access to the latest versions of Microsoft Office at all times. That means your teams can expect the latest and greatest of Microsoft's features – perfect for getting your work done. Microsoft are constantly learning and innovating their products. If you are not on the latest versions, you are missing out. It's that simple.
Whether you are a PC or Mac user, Microsoft 365 works seamlessly on each device. Gone are the days where Mac users missed out on key features. Everyone is treated equally now.
Furthermore, there are great tools that sit around the edge of Microsoft 365 that are designed to help you squeeze as much benefit out of your subscription, such as Delve, which helps you to discover and explore the information that is most important to you and PowerBI, which allows you to visualise your data and share insights across your organisation.
Solving COVID-19 specific problems:
In order for your employees to continue creating their best work throughout the coronavirus pandemic, they will need access to the latest and greatest technologies. Microsoft 365 gives them just that, no matter what device they may be having to work on.
A Microsoft 365 subscription already in place, but nobody with the IT skills to make it work better
So many businesses have Microsoft 365 in place already but lack any form of dedicated IT team that can squeeze the most out of it. Who do you turn to if you have a problem with your Microsoft 365?
If your teams do not have the IT expertise required to resolve daily niggles, then they can build-up and lead to precious lost time. To combat this, many businesses enlist the help of a Managed Service Provider (MSP) to help them manage their Office 365.
If you are looking for assistance with your Microsoft 365 to help you get the most out of your investment, entrustIT are here to help. Purchasing your Microsoft 365 licences through entrustIT incurs no extra costs, and yet it gives your organisation access to our renowned support team. Microsoft's 365 support only covers the delivery of the service, you should not expect that Microsoft will assist you with day-to-day IT issues. Our support team are easily accessible, UK based and on-hand to assist you with all problems related to your Microsoft 365.
Solving COVID-19 specific problems:
Microsoft support is limited for businesses even when there isn't a global pandemic going on. Our fully-staff support team can be there for your employees throughout the pandemic and beyond, solving all common IT issues before they end up impacting the productivity of your employees.
Outdated, slow and cumbersome storage for your files
Traditionally, file storage has been accomplished using a server in your office. Your PCs connect to the server and all can access the files stored on it. That was great in the traditional office setting, where people worked 9-5 in one physical location. Nowadays, however, that model simply doesn't fit. Staff no longer work conventional hours, and they could be in many different locations throughout the week. They still need access to their files though.
Cloud Storage is very popular, but in many cases, it makes compromises in security. Microsoft 365 uses two key methods of cloud storage: OneDrive for Business and Sharepoint. OneDrive is a cloud version of your personal documents folder and Sharepoint is a cloud version of shared drives – anything placed here can be accessed by all of your team, wherever they are in the world. Sharepoint also allows you to make company-wide announcements in order to keep everyone informed of events happening in your organisation.
Solving COVID-19 specific problems:
As the country went into lockdown, we were increasingly taking to businesses who were concerned that their employees were going to be unable to access the same documents and files they have when working in the office. Fortunately, as Microsoft 365 stores everything in the cloud, employees will still be able to access and work on documents as normal, no matter where they are working.
Difficulty collaborating on documents
It is often the case that a document requires the input of a number of different people before it is complete. Historically, that was a cumbersome process involving an individual making their additions and emailing the document to a colleague to make theirs. When only one individual can work on a document at one time, producing them can be a drawn-out affair.
With Microsoft 365, this tedious process is a thing of the past. Instead, it is possible for multiple users to collaborate on a document in real-time, communicating their changes as they go. Every individual that is working on the document can see changes happening live and can add their feedback in a handy chat window – it really is that simple!
With Microsoft365, document creation is streamlined, slashing the time it takes to create them and therefore turbocharging the productivity of your teams. That's good for business!
Solving COVID-19 specific problems:
If your employees are working from home, it is likely that they are coming across productivity bottlenecks due to the inability to work on documents at the same time with team members. This is where the real-time collaboration element of Microsoft 365 comes in handy, as no matter where your employees are having to work, they can collaborate on documents with one another simultaneously.
Difficulty juggling the desires of your staff
With the rise of Bring Your Own Device (BYOD), your IT team now has to deal with a broader range of devices working on your network. More and more people are using Mac devices to do their work. Sure, you could mandate that your staff use a Windows device, but in doing so you could alienate some of your team.
Microsoft 365 is designed to work in the modern working world. That means it works cross-platform so you can access and work on your documents on whatever device you prefer, whether that be PC, Mac, iOS or Android. Your IT team is happy, because the experience is seamless, and your staff are happy because they can work on whatever they choose to work on.
Solving COVID-19 specific problems:
The coronavirus pandemic has caused businesses in all industries to have their employees work from home. For those that were already on Microsoft 365, this is no problem, as employees can use it whether they are working on PC, Mac, iOS or Android. However, if you are one of those without Microsoft 365 implemented, you may have had to pay out to buy new hardware for those that did not have devices that were compatible with your software.
Lack of visibility of your team's workflows
When your staff are in many different locations, it is difficult for managers to keep track of workflows and assign tasks. Too often workloads are not evenly balanced, leading to an inefficient allocation of resources.
Microsoft planner is a brilliant service from Microsoft 365. It allows managers to build a plan, build the team to complete it, assign tasks and monitor the whole process, all under one pane of glass. Projects are presented in a visual layout, with the ability to drag and drop tasks between stages. Furthermore, because it integrates with the rest of your 365 suite, you can collaborate and communicate in real-time using planner – and it works on all of your devices too!
Solving COVID-19 specific problems:
As a result of the coronavirus pandemic and working from home, it is likely that you are struggling to keep track of your team workflows and projects. Microsoft Planner will not only help you can keep track throughout the pandemic, but it may help your teams to be more organised post the pandemic as well!
How entrustIT have helped businesses like yours
We could talk for hours about all the services we offer and how they help companies to get the most from their IT. However, nobody is better placed to describe that than our customers – businesses like yours that we have helped.
We operate across the country, but we also work with some amazing businesses in our local area of Dorset and Hampshire. Take the example of Jetting Systems, a fast-growing innovative business from Salisbury that exports heavy machinery all over the world. They came to us with ambitious plans for growth, but without the IT team behind them to fuel it. We overhauled their infrastructure, adding Microsoft 365 and support for their hardware. Now, they are growing at an explosive rate and fulfilling contracts all over the world.
Tina Carling, Operations Director, comments: "We can't thank entrustIT enough for the hard work they have put into modernising our IT. The speed of response and the helpfulness of the time has been brilliant from day one – we cannot fault the team."
Another example is that of Norman's Heating, a small plumbing and heating firm in Ringwood. Norman's came to us with a problem that threatened to cause a significant amount of downtime in their organisation and a very short timescale to fix it. We immediately took action to stabilise the immediate danger and then implemented Microsoft 365 and Exchange Online to give them a stable platform to continue their business.
David Staples, Director, states: "entrustIT acted quickly and decisively to solve our problem and then assisted us to a radical overhaul of our IT. The effect has been great and now I feel so much more confident in our technology and how it supports our business."
Solving COVID-19 specific problems:
In the early stages of the pandemic, as the country went into lockdown, we spoke to a number of our customers who had a selection of problems they were worried about as they prepared for a new normal. We worked with them quickly and efficiently to implement technology solutions that helped them to continue as normal as possible. The result of us doing this meant that one customer, who had only expected to hit 20% of normal turnover, was able to hit 65% over the lockdown period.
You can read more of our case studies here.
Ready to get a helping hand with your IT? Get in touch with us at 
0330 002 0045
Request a Solution Explorer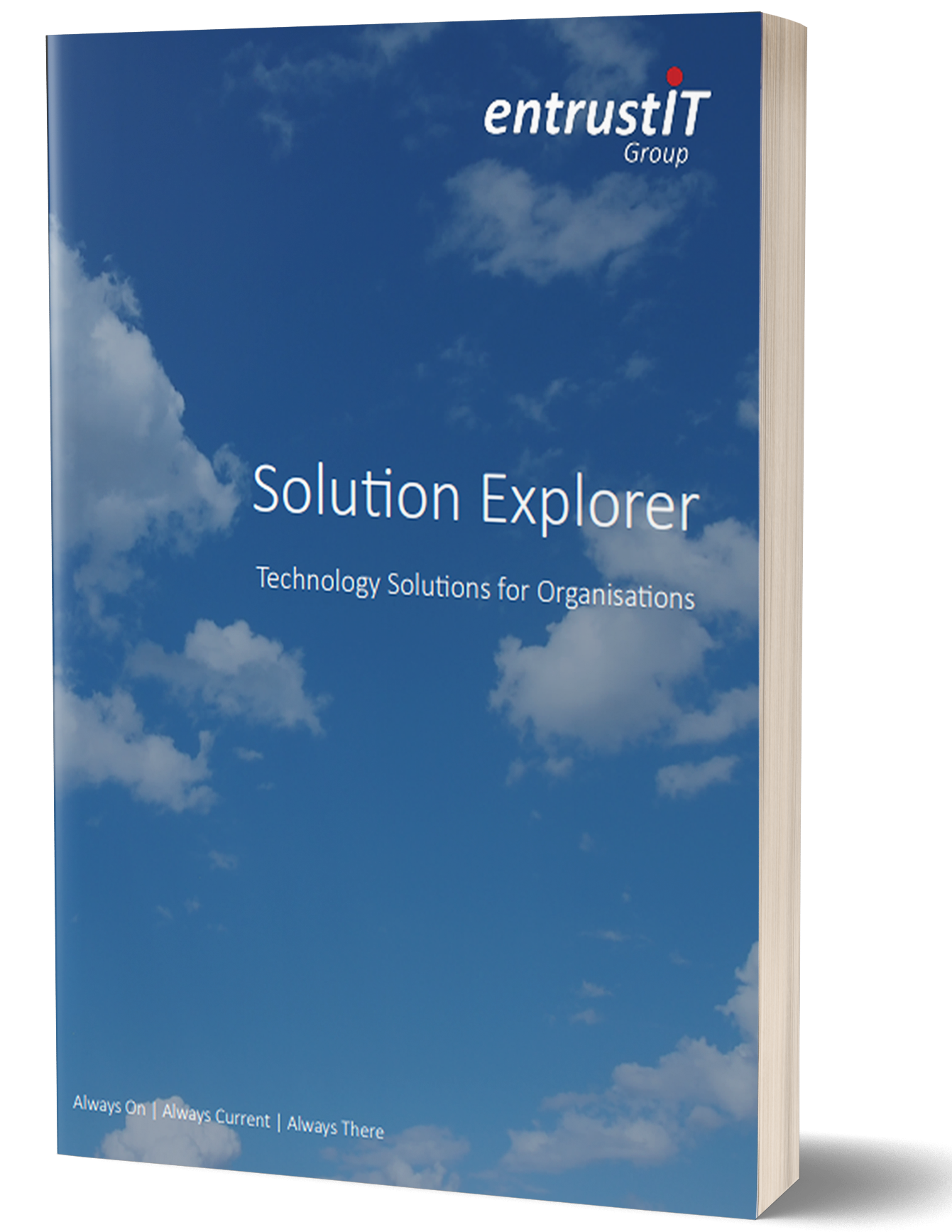 The Solution Explorer outlines our IT Services, what problems they solve and who they work best for. Request a copy by post:






<!__ end .main-content __>