In a hurry? Get a quick explanation of Managed IT Services.
If you are looking for a simple overview of Managed IT Services, download our infographic. Enter your email below.



Managed IT Services that empower businesses to do their best work.
Very few companies would consider IT and technology to their core area of expertise, and yet, all will be dependent on technology in some form in order to do their work. Productivity apps, line of business, ERP and finance applications are all a necessity to keep business flowing, but if your business does not have a dedicated IT team in place, or if your team is stretched – you are leaving yourself exposed to downtime and bottlenecks. Managed IT Services from a trusted IT Service Provider are your best option.
IT Services designed to solve common business problems
Too often IT providers will talk in complex jargon, possibly to hope to confuse you into buying. We try to be different. Instead, we talk in terms of common problems that companies face, and how we can solve them.
If you find any of these concerns with your business, perhaps we can help:
Concern about cyber-attacks
If you worry about cyber-attacks, then you are not alone. In fact, according to the UK Government, 43% of businesses in the UK experienced some form of Cyber Breach in 2018. As cyber-attacks have increased in regularity, we have been on hand to offer practical Cyber Security advice in our blog. We offer practical, simple advice that everyone can make use of to help bolster their cyber defenses.
However, it is not enough to just use this advice. To give your business the best possible chance, you need the right infrastructure in place. A resilient backup solution, Anti-virus on your PCs and Servers, and Cloud Storage and services give you an edge over your competitors and help keep your valuable data safe.
Solving COVID-19 specific problems:
Due to the coronavirus lockdown, there are a number of businesses who have had to alter their business processes to enable their workforce to work from home. As a result, you can assume that cyber criminals will be actively targeting those that have failed to protect themselves when rushing to make these changes.
Nobody with the expertise required to deal with IT issues
Have you ever had an IT trouble and desperately wished you could speak to a real human being with the technical knowledge to help you, within minutes?
An IT issue, from something as minimal as a slow computer to a broken server, can strike at any time and cause you lengthy downtime. An IT support contract covers you with unlimited access to our UK-based service team (within office hours). The team will get you back online as quickly as possible, giving you the peace of mind of knowing you are covered. Our support packages come at competitive rates too.
Solving COVID-19 specific problems:
If your employees are working from home due to the coronavirus outbreak and they encounter an IT issue, do you have a plan in place of how they can resolve it? Our IT support team are only an email or phone call away and can resolve many of these common IT issues remotely.
IT infrastructure that nobody is really monitoring
We know how it is with IT – you take no notice of it until it stops working. The trouble is, if nobody is monitoring your IT infrastructure, you are missing the warning signs that could tell you a problem is on its way.
Proper monitoring of your IT environment can resolve issues before they become problems that cause downtime.
Solving COVID-19 specific problems:
Even though you may not be able to work in the office throughout the pandemic, it doesn't mean your IT infrastructure can be forgotten about. You need to ensure it is ready at all times in case the government guidelines change. We can monitor and keep your infrastructure running throughout lockdown so that when you return to the office, you can so do without experiencing any issues.
Digital transformation goals, without the expertise needed to begin them
Digital technology is constantly evolving and changing. Business owners always look to leverage the latest technology to improve efficiency in their business, but if you are not a technical person it is easy to get lost in it all.
If that is a challenge you face, you need assistance from experts. We have decades of experience in IT and technology and can offer you strategic planning to get the most out of your IT investment. We can also offer Virtual IT Director services if you need high-level assistance with your IT.
Solving COVID-19 specific problems:
With technology being one of the only things keeping businesses running throughout the pandemic, and with no indication when things will go back to normal, it pays to invest in the tools that you will get the most from in terms of working from home effectively in the long run.
Lack of a reliable backup solution
We all know backup is important, but not all backup is created equal. For example, many Office 365 users mistakenly believe that their documents and data are backed up by Microsoft. However, this is not strictly true.
Furthermore, in some cases, public cloud backup solutions such as those found in Google Drive are not practical for business as they do not have the enterprise-grade security controls that many businesses require.
Your data is your most important asset. It deserves to be kept safe from threats with a cloud backup solution which uses only UK based servers and backs up multiple times throughout the day – so you are never far behind.
Solving COVID-19 specific problems:
In these uncertain times we are finding ourselves in, being hit by a ransomware attack without appropriate backup or losing important documents is the last thing you want. We have a number of options that can suit every need and every budget.
Hardware costs that are difficult to predict and control
With all the different hardware options available today, and considering how important hardware is for a successful business, it is not long before the costs can spiral out of control. Furthermore, if you aren't an IT expert, how are you supposed to know what hardware will work best for your business? How can you be sure that you aren't paying for hardware you do not need?
A hardware partner is a valuable asset. They give you expert advice on what hardware will work best for you, and can source at the best price thanks to their extensive supplier network.
Solving COVID-19 specific problems:
With the majority of businesses still working from home due to the coronavirus pandemic, we are seeing unprecedented demand across our supplier base. Fortunately, as an IT provider, we have a number of links which will be able to get you all the hardware you require to work from home in the long run.
An internet investment that does not seem to cover your demand
Nowadays, everyone has a handful of internet-connected devices, and they all expect them to work without any hiccups. That puts serious demand on your internet bandwidth. If your bandwidth cannot cope, you can expect productivity to stall and your staff to complain.
With a strategic approach, there is a lot that can be done to maximise the strength of your internet networking, ensuring you get the best possible speeds at all times.
Solving COVID-19 specific problems:
Even though you may not be able to work in the office or at all due to the coronavirus pandemic, are you confident upon return that your Internet will cope with the demands put on it once again? In these uncertain times you will want to ensure your staff can work efficiently without any hiccups when they gradually return.
You have an IT company in place, but they are not proactive enough.
How frustrating is it when an IT issue arises that you know should have been spotted sooner by the team in charge of looking after your infrastructure?
It happens so often, and yet it is so preventable. A proactive partner, one that monitors your infrastructure and seeks to resolve issues before they become serious problems, is important for any business.
Solving COVID-19 specific problems:
In times like these, a proactive IT company has never been more important. Many businesses who have had to furlough staff that are now back working can't afford for serious problems to arise which will put a halt to their business activities again. We can ensure all issues are resolved before you even notice so you can work throughout the pandemic and beyond.
Ready to get a helping hand with your IT? Get in touch with us at 
0330 002 0045
Request a Solution Explorer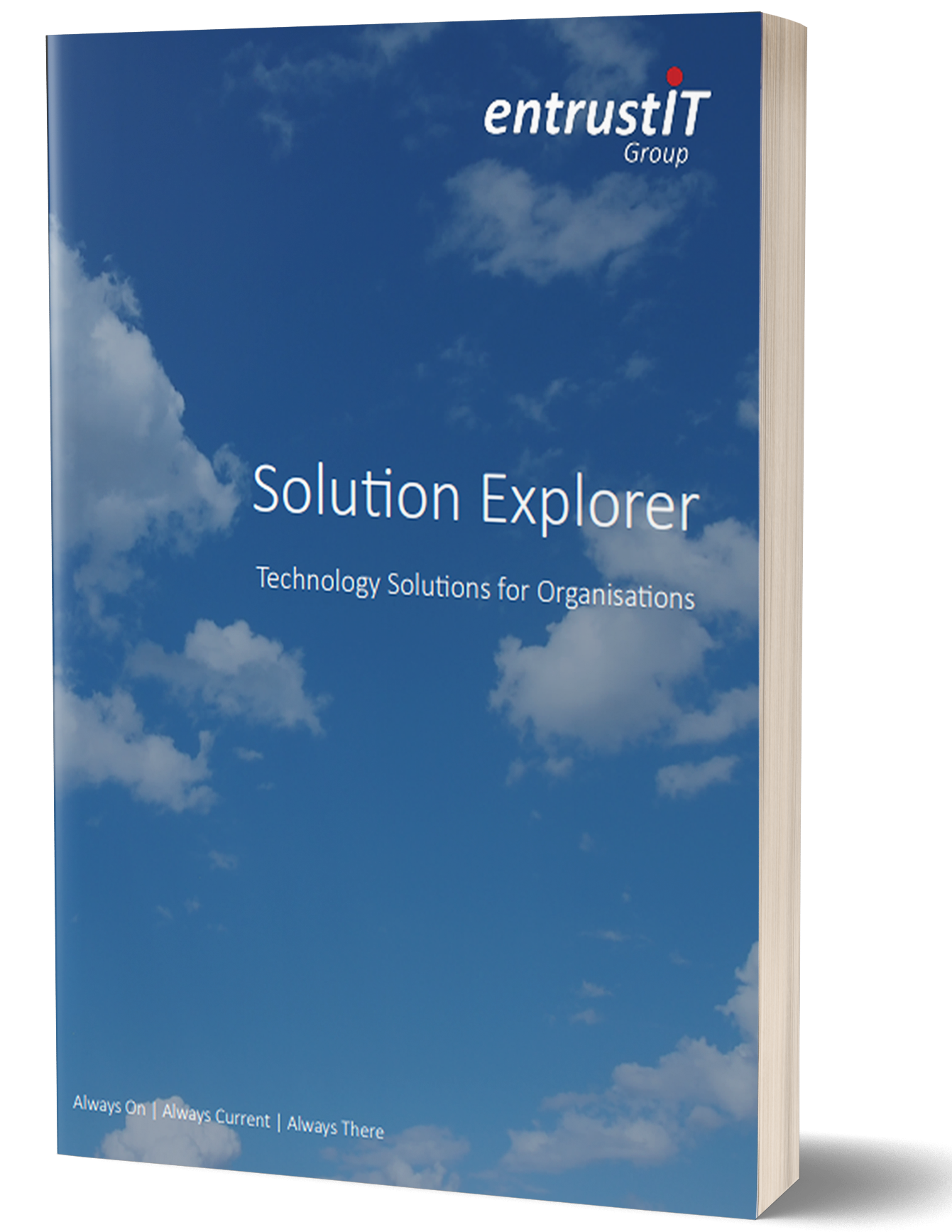 The Solution Explorer outlines our IT Services, what problems they solve and who they work best for. Request a copy by post:






<!__ end .main-content __>