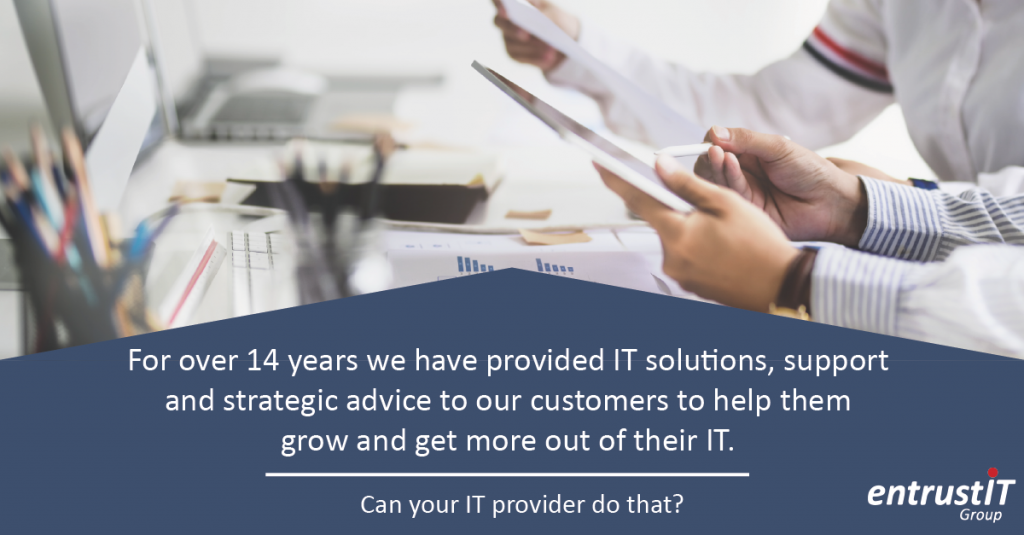 The on-going coronavirus pandemic is continuing to impact those in all areas of the world. One particular impact is on the business environment, with millions of people now having to work from home in order to help prevent the spread of the virus. For individuals and businesses who have never worked in this way before, it has created a host of new challenges.
Fortunately, modern technology has helped the work world keep moving throughout the pandemic by making it easier than ever for employees to work from home as if they are in the office.
In the earlier stages of the pandemic, a number of our customers came to us with specific problems they were concerned about as we were moving into complete lockdown. We acted immediately and implemented a range of technology solutions for these customers which for the most part, allowed them to continue as working as normal.
Problem #1:
One of our customers, a nationwide kitchen designer, retailer and manufacturer was hit with reality when the country went into lockdown. Not only did their showrooms have to close suddenly but they were worried their USP would be lost as they were no longer able to communicate face-to-face with clients.
Our solution:
As their IT provider, we acted quickly and implemented Microsoft Teams within a few days of the showroom closure and lockdown occurring. Implementing Microsoft Teams meant that they were able to keep their USP because they could still communicate with clients face-to-face, without having to be present with them in person via the video conferencing feature. As a result, our customer was able to hit 65% of their normal turnover, when they had expected no more than 20%.
You can find out more about implementing Microsoft Teams here.
Problem #2:
We were approached by a customer who was going to have to close their retail branches due to the coronavirus lockdown. As many of their outlets were in built-up areas, where crime rates are high, they were fearful that if they left them unattended, they would be vulnerable to theft or criminal damage.
Our solution:
We implemented Cloud CCTV as it was an inexpensive and accessible way for them to protect their business in comparison to traditional CCTV.  All surveillance is securely stored in a Cloud portal and can be accessed via the internet. The result of implementing such as solution meant that management could keep a watchful eye from home by live-streaming and gathering recordings which can act as evidence should the worst happen. The cameras were also able to act as a deterrent to potential criminals.
You can find out more about Cloud CCTV and how it works here.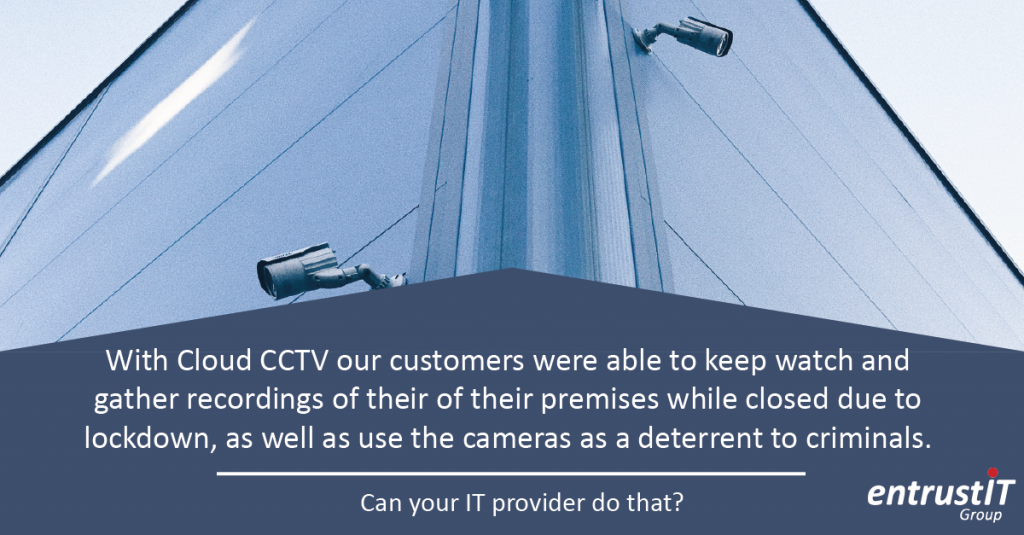 Problem #3:
A customer of ours who's business model had always be operating from their offices was concerned whether their employees would be able to adapt when being faced with working from home. They were also anxious over how they would be able to access all the same documents and tools to continue working productively.
Our solution:
We implemented Microsoft 365 for them to test out so that their employees could gain access to all the documents, files and tools they have when working in the office. With Microsoft 365, employees can also collaborate in real-time, thus overcoming all productivity bottlenecks associated with collaborating with team members in different locations. The result of this is that the customer is now questioning the need for an office and the expenses that come with it.
You can find out more about the popular Microsoft 365 suite here.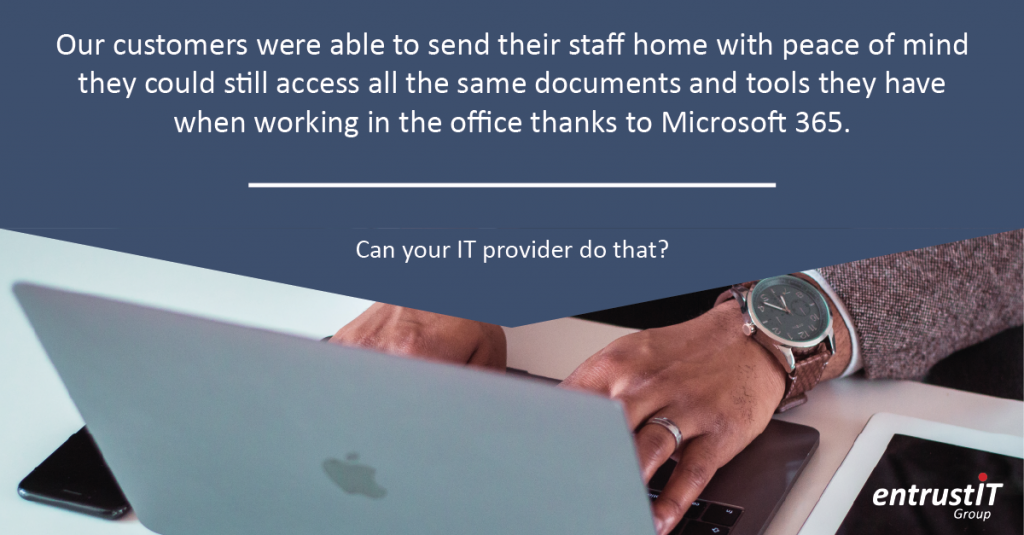 Problem #4:
As the country went into lockdown, one of our customers was still using legacy phone systems which relied on fixed lines in their offices. For employees to be able to still communicate as normal via phone while working from home, the company were having to pay out large bills to redirect to the mobiles of employees.
Our solution:
As their IT provider, we swiftly implemented a softphone solution which slashed call forwarding costs to almost 0. The softphone solution we use here at entrustIT is a VoIP solution (Voice Over Internet Protocol), which means rather than using legacy phone lines, your call gets translated into data and transmitted across a broadband connection. As a result, the company was still able to keep their outward appearances up for a fraction of the cost, all while their employees were safe at home, as well as have the ability revert back to normal whenever they are allowed to do so.
You can find out more about our emergency VoIP package which is available as a result of the pandemic here.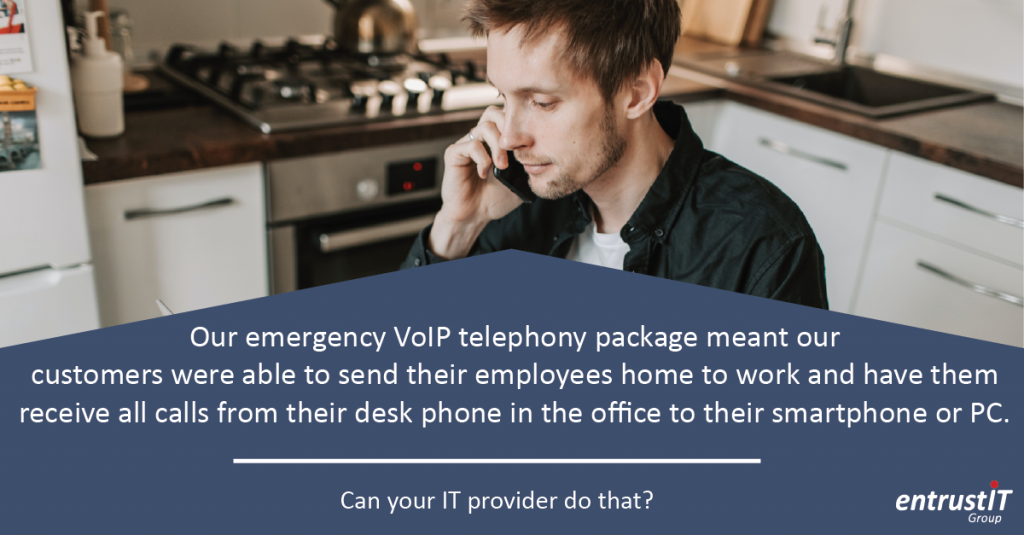 Ready to take the next step? Request a call back.





<!__ end .main-content __>